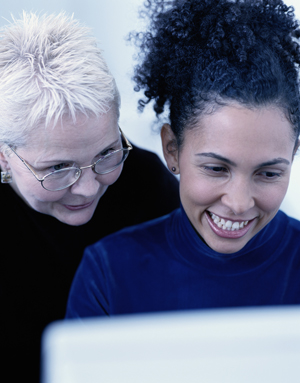 You must have a working computer/laptop and an email address in order to take this course.
How does the On-Line HHA certificate program work?

The on-line HHA program is convenient for those that are unable to attend an in-person class. However, you must be a self starter and motivate yourself to complete all the required course work. This is not a program you want to procrastinate on.
You must come to the office to register for the class and pay your registration fee. At that time you will have a reserved seat in the class. Tuition is due 1 week before the course is scheduled to start. If you register less than one week before the course starts or after the start of class, payment in full is required. After you pay your tuition you will be given a user ID and URL to access the training site on the first day of class.
An orientation will be emailed to you on the first day of class to explain how the on-line training works, what is expected of you, how to contact the instructors for issues/questions, and the process of being certified. This orientation is not included in the 60 hours.
You will have a maximum of 6 weeks to complete the 60 hour on-line training curriculum, the 16 hour skills training and take the final exam.
We recommend completing at least 12 hours of on-line training curriculum per week so you don't fall behind. You can complete more hours each week if desired.
The 16 hours of skills training will be scheduled for two 8 hour days between the start and end date at the office from 8:00AM to 4:30PM. You will be trained on how to properly use equipment you may use in the field (wheelchairs, hospital beds, walkers, hoyer lifts, etc), how to do bed baths, ambulations and transfers, foot and hand soaks, feeding techniques, and more.
If you do not attend the assigned dates and have to be rescheduled, you will be charged an additional fee of $100 per day. You will be informed of those dates upon start of class and they are also listed on the class schedule link with the corresponding course dates.
The 1 hour final exam will be administered at the office. You will have two attempts at getting a passing grade of 85%. The test will be scheduled upon completion of the on line course modules and two days worth of skills training.
You can receive a one-time two week extension for an additional tuition fee of $100. All training materials are on-line so you will not need a text book, however if desired you may purchase a text book for $50. Once you have completed the course work and have taken the test, you will no longer have access to the online training material.
All other information is the same for both in office and on-line training.
I want to register! What do I need to do?
We are excited you are ready to register for a course. In order to do so please click the Sign Up Now link at the top of the page and fill out the information. An automatic email will be sent to you that will contain step-by-step instructions on how to register online. If you prefer to come to the office to complete your paperwork, please bring your registration fee (please review the tuition tab) and photo ID and social security card. You will fill out the registration form and review the policies while here. You can come to the office between the hours of 10:30AM and 2:30PM Monday to Friday. We are not open on the weekends or on major holidays.